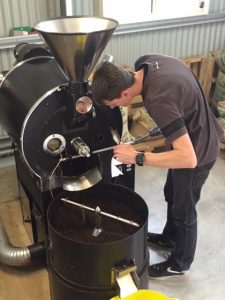 Great Divide Coffee is small batch coffee roaster in Marysville, Victoria at the start of Australia's Great Dividing Range.
We specialise in hand roasting quality arabica coffee beans from around the world.  We source ethically, featuring Fairtrade coffees and establishing relationships with farmers that have a sustainable vision from whom we source directly.
At Great Divide Coffee we believe in providing a holistic service, we were café owners for 15 years, we understand that the quality of coffee you serve to your customers defines your business.
Quality starts at source, we play our part to bring out all the wonderful characteristics and flavours of the bean by hand roasting in small batches, we then create blends that balance and finesse,  our job doesn't stop there; we provide training, ongoing support and equipment to our customers so that the coffee's full potential is met.
We would love to have you on board and promise that you can taste our commitment to quality in the cup!