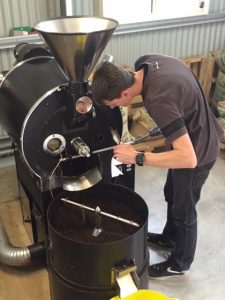 The idea started in 2000 when I was living with my wife in California. The micro coffee roasting business there was really flourishing, every small town had a coffee shop that roasted its own coffee, and supplied beans to people for their home use. I became friends with Ricco, our town's local roaster and he introduced me to the fun and challenges of coffee roasting.
I knew in Australia that there was a growing interest and appreciation for fresh food, local produce and a desire to try something different. This combined with my love of great coffee and the challenge of roasting and developing new roast profiles convinced me that this would be a great opportunity for us on our return home to Marysville, thus Great Divide Coffee was born.
On our arrival home I realised that there are some significant differences between Australia and California. We can probably thank Australia's foodie movement that initiated an appreciation for the lighter more complex roast over the darker "3rd crack" roasts that are still prevalent in the US. The Italian influence here also manifests itself in our love of the espresso machine over the American preference for black filter coffee. Both of these factors forced a rethink in the way I was going to roast coffee.
After thirteen years our business has grown, with coffee shops, cellar doors and local general stores carrying Great Divide Coffee. We know more about coffee now than we did back then but the challenge of developing roasts for our customer's specific needs along with a continuing curiosity about what is possible from a coffee bean gives great motivation and job satisfaction.
We are located in the picturesque Acheron Valley just out of Buxton, a stone's throw to Marysville, our roasting facility has a great view of the Cathedral Ranges, probably doesn't make the coffee taste any better but I enjoy looking out the window.